Calm Cream. It's all in the name.
 
We can all attest to having a skin irritation at one time or another in our lives.  There is nothing worse than having an area of the skin that is plagued by dry, itchy, irritated, or inflamed skin.  This type of nuisance creates discomfort and oftentimes embarrassment if visible to others.

When skin irritations arise, they can be caused by so many different factors; allergic reaction, autoimmune inflammation, exposure to the sun, windburn, frostbite, bug bites, sensitivity to fabrics, and the list goes on and on………

Dermatologists would often recommend a myriad of prescription creams, topicals, or ointments to help alleviate the symptoms.  Most commonly these prescriptions contain steroids of varying strengths and/or calcineurin inhibitors (linked to possible risk of lymphoma).  These types of strong prescription drug creams also have warnings about not using close to the eyes or mouth.  Although they may remedy the inflammation, they come with a whole host of risks in using them and for that reason, we felt the need to create a product that would help the skin's dermis to repair itself in times of inflammation.

When we envisioned Calm Cream, our sole mission was to create a skincare product that would calm and soothe the skin naturally.  A go-to cream that people would happily put on any part of their body that they could be confident would quickly and easily soothe and repair their skin ailments.

Mother Nature has created ingredients that when paired together can often form a more powerful approach to healing than the artificial kind.  The team at Calm Elements spent months working with a specialized chemist to create the perfect formula that would provide optimal results in rehydrating and moisturizing the skin.
The Soothing, Hydrating & Restoring Powers of Calm Cream
Without giving away our perfected formula let us share with you some of the ingredients that make Calm Cream not just your average skincare cream. 

Shea Butter: Contains several types of fatty acids that improve the skin's natural barrier and also act as a protectant from environmental damage and pollutants.
Jojoba Esters: Clinically proven to reduce dryness that can lead to flaky, irritated, or rough patches on the skin.
Hemp Seed Oil: Nourishes the skin to prevent itchiness caused by irritations or dryness.
Coconut Oil: These medium=chain fatty acids found in coconut oil possess antimicrobial properties that assist in preventing infection, reducing redness and irritation, and assist in providing moisture.
Vitamin E: (Tocopherol); Possesses an anti-inflammatory effect on the skin.
Tea Tree Oil: Calms redness, swelling, and irritations.  It has antimicrobial properties that also work as an anti-inflammatory for the skin.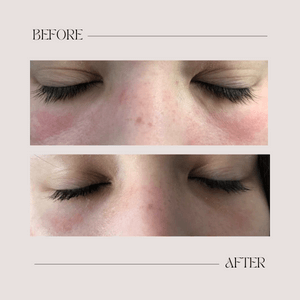 See The Magic In Action
Take a look at this case of someone who used Calm Cream after having a skin irritation due to an allergic reaction to makeup.  Calm Cream was applied to the affected areas and within 2 hours the inflammation and redness were reduced!
 
As you can clearly see Calm Cream lived up to its name and truly calmed their skin down.  Why use prescription creams that may have harmful ingredients when you can reach for a product that is full of mother nature's beauty?  We are confident that Calm Cream lives up to its name by calming, restoring, hydrating, and soothing the skin.