How Can I Tone And Slim The Look Of My Face?
Facial puffiness is a common concern for many people. Fortunately, lymphatic drainage massages can reduce the appearance of puffiness and help achieve a slimmer, more toned look. They can also potentially reduce the appearance of wrinkles, fine lines, and other signs of aging! These massages stimulate the lymph nodes, which helps to flush out excess fluid and toxins from the body. Learn how you can achieve a youthful, toned, and radiant complexion. Read more below!
What Is A Facial Lymphatic Drainage Massage?
A facial lymphatic drainage massage targets the lymph nodes on the neck and face. Massaging these lymph nodes helps to drain fluid and toxins from the skin. WebMD states that "this massage aims to help the body maintain proper blood circulation, body fluid balance, and immune functions".
Why Are Face Slimming Lymphatic Massages

So Popular?
Facial lymphatic drainage massages are known to help decrease the puffiness of your skin, which is how they can make your face appear slimmer when done consistently. These massages also help improve dull complexions and can decrease skin irritation.
8 Benefits of Facial Lymphatic Drainage Massages
1. It gives your face a youthful & radiant glow


2. It helps improve elasticity


3. It can make your cheekbones stand out and sculpt your jawline


4. It can improve acne, clogged pores, and puffy-looking skin


5. It helps to reduce the appearance of wrinkles


6. It can help improve allergy symptoms


7. Aid in the healing process of eczema


8. It is very relaxing! This massage will help to release any tension in your muscles
How Much Does A Lymphatic Drainage Massage Cost?
A lymphatic drainage massage costs over $100 US for 60 minutes. Since the best results come with consistency, the price of these massages can add up quickly. However, you can give yourself a facial massage in minutes from the comfort of your home.
5 Steps To Doing a Facial Massage At Home
1. Wash Those Beautiful Hands

Avoid transferring dirt from your hands onto your face! Ensure you thoroughly wash your hands.

Don't massage your skin when it is dry. This could potentially damage your skin. Try applying Calm Cream when massaging your face to hydrate your skin and allow your hands to easily slide across your skin.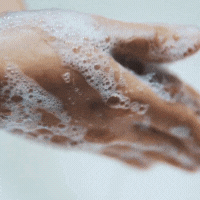 2. Massage Your Neck

Next, slowly massage Calm Cream onto your neck with your index and middle fingers. Then tilt your head back and rub under your ears, where the lymph nodes are on your neck. Move up to your chin and massage your jawline.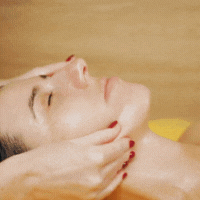 3. Massage Your Cheeks

Massage both sides of your nose and make your way to your cheekbones. This feels particularly good if your face feels puffy!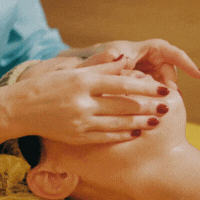 4. Carefully Massage Under Your Eyes

Softly massage the skin around your eyes. Be careful not to rub or pull this skin too hard because it is very delicate. Slowly move up towards your eyebrows and massage under your brow bone.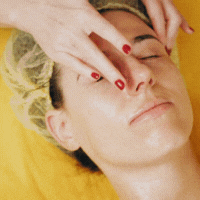 5. Massage Your Eyebrows And Forehead

Finish your massage off with a relaxing forehead rub. Ensure you rub up to your hairline.

Take a moment to relax and reflect on your day while you massage your temples.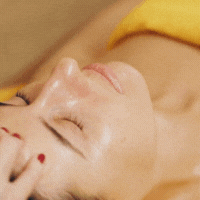 That's it! Just like that, you've finished your at-home facial massage.

Have more questions? Check out our FAQs below! 

How Long Should I Wait To See Results?

You won't see the results right away, but if you are consistent, you will start to see the results in the appearance of your skin. Don't forget that these results are temporary. Aim to do this massage twice a week for longer-lasting results.
 
Do I Need To Use Tools To Do This Massage?

No! No tools are required, just your well-washed hands. However, using a facial roller is optional.
 
Do I Need To Use A Facial Oil or Cream When Massaging My Face?

Yes! Massaging your face when it is dry will result in you dragging your skin. Avoid wrinkles and potential skin damage. Always use a hydrating cream to keep your skin protected.

We hope you enjoy giving yourself a face slimming lymphatic massage!

Swipe left to see more